What is DBT?
DBT stands for Dialectic Behavioral Therapy. The term "dialectical" here refers to balancing between two opposing forces by rational discussion.  The concept of the therapy revolves around this notion of being dialectical.
This therapy integrates concepts from psychoanalytical therapy (e.g. the meaning of the current behaviour being related to past) with behavioural therapy (e.g. Change in behaviour leads to improvement in psychological symptoms) to help the client deal effectively with their problems. The person is then trained to deal with the emotional pain without enacting self-injurious behaviour.  The success of DBT relies on four basic skills imparted throughout the course of therapy.  These are:
Mindfulness: It simply means to be consciously aware of inner self and surroundings. This skillset helps the patient to distant themselves from their emotions and observe them from a third person perspective. Once aware, the patient can deal with these emotions in a new way.
Distress Tolerance: As the name suggests, the client is trained to tolerate discomfort and emotional pain in a skilled manner. This brings out their ability to realise that certain distressing emotions may originate in some situations and their job is not to get overpowered by these situations. Thus dealing more effectively in a given situations.
Interpersonal Effectiveness: This skill aims at improving the interpersonal communication with others which includes skills like how to maintain healthy relationship, balancing the dynamic relation with others, effectively asking for something, respectfully saying "NO" etc. Thus the client learns to reduce the extreme state faced in a relationship and keep it more balanced.
Emotional Regulation: The therapist then actively works with the client to access, understand, and regulate their emotions. Ultimately this skillset improves positive emotions and decreases vulnerability which helps in symptoms of anxiety, anger and depression.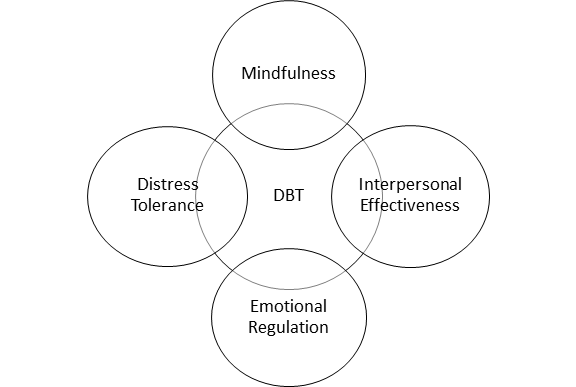 When should one get DBT?
DBT was initially developed for patients with Borderline Personality disorder with suicidal tendency. Now it is the choice of therapy for such individuals. But, over the years the evidence is also emerging in favour of their success with other conditions as well such as Substance use disorder, depression, post-traumatic stress disorder, non-suicidal self-injury, suicidal behaviour.
What can I expect from a session of DBT?
The client is assessed for their suitability for therapy and then goals are identified which are tailored to the their specific problems. The client is then oriented to the basic structure of the sessions and concept of DBT. Once the client is found suitable for the therapy and is motivated enough the sessions are started.
In the initial phase of stabilisation the focus is on self-injurious behaviour, Severe symptoms which may hinder with patients health or therapy progress. The sessions may be held individually or in groups. The client is also trained in dealing with emergencies. After stabilisation comes the next phase where the focus is on reducing symptoms. Symptoms of anger, frustration, depression, trauma, and anxiety etc. are targeted in this phase. The Last phase of emotional regulation is achieved through acceptance of problems and change in behaviour. The focus is on imparting skills related to improving quality of life, stabilising interpersonal relations and effectively dealing with problems. Throughout the process the client gets trained in developing four core skills of this therapy viz. Mindfulness, Interpersonal Effectiveness, Emotional Regulation, and Distress Tolerance.
What is the course of DBT?
It is not a quick solution to the suffering, rather it is a long term and stable path of dealing with the problems. The evidence recommends that at least 1 year of therapy is required for a significant change. There are 30-60 minutes sessions each with a frequency of weekly or fortnightly. These figures are a little flexible and depend on the initial assessment. One may choose to not take DBT and ask for alternative means of treatment.
Is it better than drugs?
DBT is an effective treatment for suicidality associated with borderline personality disorder, non-suicidal self-injury, suicidal behaviour and other conditions mentioned above. It should be kept in mind that DBT does not give immediate relief and takes some time. Whenever suited the doctor may prescribe some medicines or other alternative therapy for quicker relief. In case of emergency like suicidal attempt the patient should be taken to the nearest medical centre for help. In other non-emergency cases, a doctor may prescribe some medicines for stabilisation and symptom reduction.
How it is different from other therapies?
DBT is a long-term therapy focussed on patient having problems in emotional regulation, self-harm behaviours, feeling of emptiness, sudden changes in relationships or other aspects of life. Here the initial focus is stabilization then identification of issues followed by skill building. The process involves components from different therapies as mentioned above and a direct comparison should not be done. However, this does not mean that other therapies like Psychodynamic therapy or Cognitive behavioural therapy do not work or are less effective. It is just that the therapy is designed specifically keeping in mind the symptoms like impulsiveness and black and white thinking in some patients (mainly borderline personality disorder). The evidence is almost equal for different kind of therapies. One should consult a psychiatrist to know what kind of psychotherapy is suited for their problem. While DBT is more suited for someone in which current problems are not believed to be directly linked to their past.
Where should I seek help from?
If you or your dear ones are having significant distress or problems in carrying normal activities, you should consult your Psychiatrist immediately. The psychiatrist will evaluate thoroughly and evaluate for the need of treatment, whether you require DBT or not and order any investigations if required.
Recommended Reading
Dialectical Behaviour therapy (DBT) | Royal College of Psychiatrists [Available from: http://www.awp.nhs.uk/media/424716/dialectical-behaviour-therapy-dbt-042020.pdf