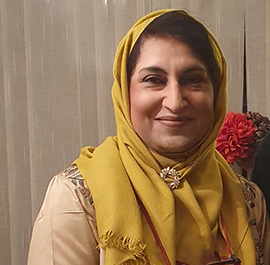 My name is Dr Lubna Latif. I hold clinical experience of 33 years since my medical graduation, I completed my basic psychiatric training in the Coventry and Warwickshire, Royal college rotational training scheme, I started my career in Child and Adolescent psychiatry in Coventry in 2007, I was awarded specialist Registration in this specialty in 2015, Initially, I worked at Shropshire CAMHS and currently, I am working as a Child and Adolescent Psychiatrist at Blurton Health Centre, South Stoke, since October 2017. I have worked in different settings of CAMHS, including Community, Intensive support team, Inpatient unit, and in process of developing the CAMHS home treatment team at Stoke on Trent area. I am an approved clinician and section 12(2) approved doctor for England. I have extensive experience of diagnosis and treatment of mental health disorders and neurodevelopment disorders in children and adolescents, which includes, mood disorders, anxiety disorders, Psychosis, eating disorders, emerging personality disorders, Autism, ADHD, and Tourette syndrome.
I am trained in Dialectical behavioural therapy which is the evidence-based treatment in chronic self-harms and suicidality. I am trained in other forms of psychological therapies which are applied as first-line treatment in this age group.
I worked within the systemic family therapy team for 5 years while working in Coventry CAMHS.
I have extensive knowledge and experience in, risk assessments, developing management plans and safe prescribing.
I am registered with GMC and holding up to date license to practice.
I actively work towards my personal development plans and continuing personal development.