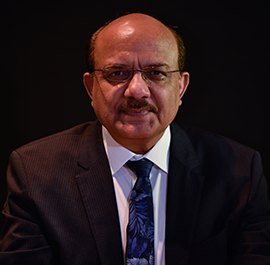 Dr Chandiramani has worked as a psychiatrist for more than 30 years including 15 years in academic psychiatry. He currently works as a Consultant Psychiatrist in Nuffield Health at North Staffordshire Hospital and as a Second Opinion Appointed Doctor for the Care Quality Commission. He has served in various capacities i.e. Lecturer, Senior Lecturer, Assistant Professor, and Associate Professor at various universities across several countries.
He was awarded Gaskell Gold Medal and Prize for Clinical Excellence by the Royal College of Psychiatrists in 2002 and a distinction in the postgraduate diploma in Psychosexual Therapy by the University of Central Lancashire in 2008. After completing his higher specialist training in psychiatry he has sought further training and experience in the fields of Postnatal Depression, Relationship Counselling, Anxiety and Panic Disorders, Alcohol and Drug misuse, Workplace related stresses health management, old age psychiatry, biofeedback therapy, and legal aspects of psychiatry.
Dr. Chandiramani has received awards for his publications and presentations in scientific meetings. He has published numerous articles in national and international journals including the British Journal of Psychiatry, British Journal of Medical Psychology, American Journal of Psychotherapy, Acta Psychiatrica Scandinavica, Schizophrenia Research, European Child and Adolescent Psychiatry, etc. He has delivered guest lectures on mindfulness meditation at international conferences.
Dr. Chandiramani uses a number of different therapy approaches such as biofeedback therapy (computer-assisted stress management), Existential Psychotherapy, and mindfulness meditation. He runs a six-session Stress Management Programme that combines elements of psychoeducation, relaxation exercises, mindfulness meditation, and Cognitive Behavioural Therapy (CBT).
He is experienced in Medico-Legal Work and has produced a large number of reports for mental health review tribunals, personal injury claims, mental capacity assessments, and occupational health issues. Apart from English he can understand and speaks several other languages, such as Hindi, Punjabi, Urdu, Sindhi, and Rajasthani.
Professional Qualifications:
• MB, BS – SMS Medical College 1980
• MRCPsych 1999(Member Royal College of Psychiatrists)
• Dipl Health Management 2000
• PG Dipl Existential Psychotherapy 2003
• MPhil Five Year Follow-up 2007
• PG Dipl in Psychosexual Therapy 2008
• Section 12 approved
• GMC registered (General Medical Council)
Being a psychotherapist himself Dr. Chandiramani understands the needs of clients who are already in therapy with his therapy colleagues and uses medication very judiciously and only for a limited period of time until clients are able to use their own inner psychological resources more effectively.
Before prescribing any medication Dr. Chandiramani discusses in detail the risks and benefits of each and every drug option with his clients involving them fully in decision making. He has worked effectively with clients who want to come off medication.
You will find Dr. Chandiramani very polite, compassionate, knowledgeable, alert all the time to what you are saying, and open to receiving feedback from his clients directly. Dr. Chandiramani promises to refund your money if you are not satisfied with your consultation with him.